Yorkshire Rider 1254
G254 JYG
DAF SB220
Optare Delta body
DAF LC1170 engine
1254 was one of five Optare Deltas built for Yorkshire Rider. These vehicles are based on the DAF SB220 chassis, with a DAF LC1160 engine. The stylish Optare body was designed was by Mr Tony Greaves.
Before ordering these vehicles Yorkshire Rider tried out at least one demonstrator, F792 DWT (now scrapped) which was fitted with guide wheels and tried on the guided bus test track at Bramley.
1251, 1252, 1253, 1254 and 1255 were delivered new to Bramley depot in November/December 1989, and were principally used on routes 8 and 9 (Ring Road Circular), though they often appeared on other routes including on trips into Leeds city centre.
In the late 1990s the whole batch was transferred to York depot, where most/all of them received the two-tone green Rider York livery (1254 initially operating in Yorkshire Rider livery but with small red "Rider York F" fleetnames). The batch was transferred out, in November 2001, to First PMT and 1254 became 274.
We are unsure at present what depot in PMT 1254 was allocated to, but she became 60018 in the First national numbering scheme. She received the "Barbie 2" (fading pink_ livery (either in York or at PMT) and then "Barbie 3". At some point, she was converted into a training vehicle. This entailed most of the seats being removed, and things like a second handbrake being fitted. Also removed were the front and side destination boxes. The front one presumably to use elsewhere, and the side one to aid vision.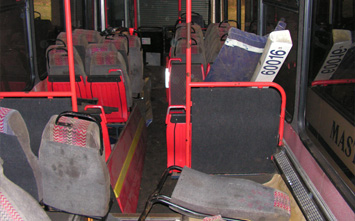 Interior, looking forwards
She was bought 'blind' after contact with First PMT in 2007 and 2008, the due to some parts being removed from her in error she was stored at Adderley Green depot until replacement parts could be sourced. She was viewed by us for the first time in January 2009.
1254 will primarily be stored for future rectification, though if time permits an attempt will be made to put her back together and thence to assess her condition.
She is believed to be only the second Optare Delta in preservation, joining the splendid Northumbria 251 (G251 SRG) which is owned by a senior person in the bus industry.
These pictures were taken when 1254 first arrived with us. Since then the PMT moquette seats were given to our PMT preservation friends, who have preserved H801 GRE which was restored and repainted, and is seen here back home at Optare.
Here's a picture of 1254 when new, on Leeds Eastgate. And here's a further shot of it in service with PMT in Hanley.
If you have any pictures of 1254 please do get in touch.