WYPTE 1705
D705 HUA
Freight Rover Sherpa
Optare body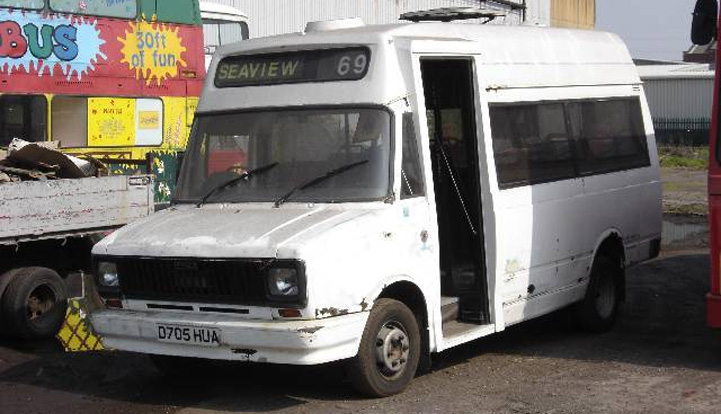 1705 (D705 HUA) pictured in 2005
1705 was one of fifteen Freight Rover Sherpa minibuses ordered by West Yorkshire PTE, all of which had Optare bodies that used, where possible, the confines of the Freight Rover van shape - indeed everything up to the bottom edge of the windows comprises standard Freight Rover parts. This was the complete opposite of Dormobile, who used the Freight Rover Sherpa or Ford Transit chassis cowls onto which were grafted a custom built body, wider than the van body and featuring Dormobile's own windscreen. This is shown to advantage in 1751 which is also part of our collection.
All fifteen Sherpas were originally delivered with C---KBT registration plates, however (due to a trade union dispute) only 1701 was actually registered and taxed before the 1 August 1986 registration plate change, being C701KBT. The other 14 were registered and taxed in August/September 1986 as D702-715 HUA, 1705 being registered on 8 September.
To start with (for the last several weeks of the West Yorkshire PTE) the Sherpas in Leeds were used on duplicates of big bus routes, mainly with new drivers. Favourite routes for this seem to have been the 19 and 41 but other routes were probably also worked. Come deregulation on Sunday 26t October 1986, there was a new name for West Yorkshire's bus operations - Yorkshire Rider Limited, which was (initially) a subsidiary of Metro.
Yorkshire Rider quickly instigated a network of minibus routes, including the 6, the 42 and the CB1-CB6 set of routes, all of which were worked by the Sherpas together with the legions of Dormobile and Carlyle bodied examples that were arriving at this time, soon to be joined by Star Riders, City Pacers, Ford Transits, MCW Metroriders as well as Ivecos which came with the takeover of West Yorkshire Road Car Company.
The last instalment in the West Yorkshire "breadvan" story were the Mercedes 709D minibuses with the Plaxton Beaver body delivered to Rider Halifax, Rider Huddersfield, Rider Leeds, Quickstep Travel, Bradford Traveller and Calderline in the 1990s, before the return to another Optare product, the Solo.
All the Optares were delivered in MetroMini livery, which used the MetroCoach colours of saddle (dark brown), buttermilk (cream), cinammon (Orange) and poppy (red) with gold fleetnumbers and standard (gold) MetroCoach logo on the bonnet. 1705 retained this livery until its disposal, however at least 1706 and 1712 received the new Yorkshire Rider "Micro Rider" livery at some point during 1986/early 1987.
On 15 June 1987, the vehicle was acquired by Mosley Group PSV Ltd of Crossroads, Anston, Sheffield. They sold it on 1 September 1987 to Shamrock & Rambler Coaches Ltd of Bournemouth. 25 November 1989 saw another change of keeper, to Mr George Roberts of Parkstone, Poole, then on 26 October 1993 he sold it to Mr George Pearson of Ferndown. 8 December 1997 saw a move to Whippet Coaches (G & C Brough) of Wimborne, Bournemouth followed on 8 December 2000 to Dorset Travel Services Ltd also of Bournemouth. 1 April 2001 saw a move to Bournemouth Transport Ltd (Yellow Buses) from whom it was preserved by Mr Chris Drew and Mr James Prince of Poole, Dorset on 2 July 2001. The vehicle's present owner purchased the vehicle from those gentlemen, and on 26 October 2004 it returned home to Yorkshire for the first time since 1987.
1707 (D707 HUA) was still extant in September 2005. If anyone knows anything at all of this vehicle, your contact would be appreciated.