Film, TV & corporate hire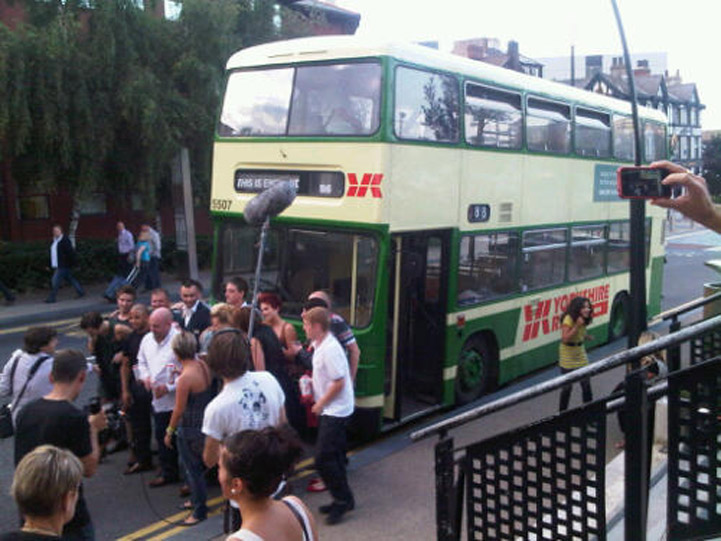 5507 (C507 KBT), our Yorkshire Rider Leyland Olympian in use during filming for This is England 86
Transport Yorkshire Preservation Group is able to provide a fully-inclusive service to the film and television industry, encompassing action vehicles (buses and commercials/cars/motorbikes), continuity and authenticity, as well as a full consultancy service. All media enquiries are handled personally by our of our trustees, who has previously held senior management roles with various television production companies.
Whilst we specialise in providing fully authentic vehicles to enable you to accurately reflect Yorkshire in the 1970s, 1980s and 1990s, we are also able to provide generic vehicles to enable you to depict any geographic and time period, and we can also undertake a vehicle sourcing service to depict any other geographical location if required. Furthermore, we can provide 'blank canvas' vehicles which we can paint and/or vinyl wrap to your specification. Included here is an open top bus which would be ideal for promotional use for any event or campaign. Should you be planning a destructive scene (crash, accident etc) we can supply you with one fully functioning bus or truck for the pre-collision scenes, and a second identical vehicle for the actual destructive scene itself (as part of this service, we would remove all of the damaged vehicle, providing paperwork to confirm that the hazardous waste is dealt with as required by legislation).
As with many things, the earlier you contact us to discuss your requirements, the earlier we can provide the level of support and advice you need.
As a minimum, we would provide one vintage vehicle and driver through to dozens of vehicles. We will liaise with your art director and costume departments, and if requested can supply authentic or generic bus driver uniforms. As part of our service, we have access to a range of British and foreign cars and bikes from the early 1900s through the 1960s, 1970s, 1980s, 1990s and present day. We can also provide bus interiors for studio use.
In general and subject to other work commitments, we normally have at least one green bus and at least one red bus ready and available for short notice requirements - telephone us to discuss - and subject to immediate CHAPS transfer we may be able to be with you the same day.
Unlike other providers in this industry, we have a true understanding of what you want, and will take a realistic view of issues such as interior changes, weathering, actors stood up whilst moving, etc etc. For promotional use, the upper deck of our open top bus is available either empty with no seats, with conventional bus seating, perimeter seating or any other layout you may need. We can provide sound and microphone systems if needed, and also provide drink serving facilities downstairs on request.
All of our services are available nationwide, and by arrangement to Europe.